Shopping Cart
Your Cart is Empty
There was an error with PayPal
Click here to try again
Thank you for your business!
You should be receiving an order confirmation from Paypal shortly.
Exit Shopping Cart
NFDC 5 Star Licensed Boarding Cattery
A busy time of year indeed...
The sun is at last shining and all is well at Cottage Garden. We are full of beautiful cats, young and old, new and regular, all colours, breeds and characters. As I have a large number of guests at this busy time of year I will jump straight to the residents update.
Alfie – Dear old Alfie with no teeth left he's learning to eat his mashed food without getting too much stuck on the end of his nose. He's not impressed with having medicine twice a day but wandered out in his run today to soak up some of the suns rays. Quite a sleepy chap these days.
Bella – is out and about on her shelf keeping herself in the know about who's visiting the cattery. She's kept on her diet well and is looking better for the shed pounds.
Bailey & Pepper – Siamese cuddlers. Always up for a cuddle and a stroke and chatty too!
Charley – lovely little persian girly who can talk for England – especially if she thinks there's a chance of an extra meal or treat. A first timer but you wouldn't know it..
Charlie – arrived today for his latest visit – so far so good.
Daisy & Jack – Also arrived today, Jack was out and about straight away – Daisy a little more shy to start as per usual and snuggled into her igloo this evening.
Fluke & Marvin - another new pair to us. One long haired and one short haired black chaps – lovely couple of young cats that have settled in well, both now watching the world go by.
Kenzo & Marley – Both are out and about in their run – always happiest when the food arrives – but love a stroke too.
Leo – our little red head who just loves his fish.
Lilly – I have moved to a quieter house outside by the orchard where she is much more settled on her giant dog bed and loving regular cuddles and attention.
Marvin, Loulou, Hugo & Coco – are still playing hide and seek, except this week I think they've forgotten who was supposed to be hiding as they are all out and about enjoying the better weather.
Melody – the pretty Persain tabby is eating well and watching all from her shelf.
Merry – sweet little Merry is aptly named and as per usual is as good as gold.
Milly – has decided she rather likes her new neighbour, could there be a holiday romance going on?
Mister – yes that's you young man – seems to be enjoying the attention...
Misty – After her long journey from Singapore, she is settling in, although not yet completely over her journey. She is loving attention and discovering English food although Science Plan is definitely universal!
Mori – after arriving in a foul mood which lingered for a fair few days he is now back to the relaxed and happy cat we prefer – note to owner – please do not wind him up before he comes to stay!!! x
Nelson – the handsome black and white Nelly – as good as gold as per usual...
Neptune – Another newby – wonderful slinky black chap – super little cat.
Olaf – What a little star – loves attention and such a character – first timer too.
Oscar – Head butter of the best nature, this little tabby has bundles of character and has settled in well on his first visit. Always up to mischief – in the nicest sense.
Phoebe & Jackson – Our regular Mainecoon visitors – prowling around a family house and keeping an eye on everyone and everything – well Jackson is, Phoebe's just sunbathing!
Poppy – wonderful little black cat, we fell in love on her first stay – lovely to see her back.
Poppy – Tabby British Shorthair who is getting braver by the day. A little shy to start but now outside enjoying her surroundings, now that she's realised we're not all vets!
Sheepdog – our large black and white puss, who I'm sure thinks he's a guard cat!
Smudge – our handsome diabetic ragdoll, off home tomorrow.
Smudge – Tortie girly this time, eating well and mainly spending time watching the pond from her window.
Sticky – hibernating – I'll have a word in the morning and explain it's now summer!
Tabitha & Pickles - are also on their first stay, but both are well although Tabitha is by far the more forthright of the two, waiting for me at meal times ready for a hug, whilst pickles is a little more reserved, enjoying a stroke on her shelf whilst she keeps tabs on the world through her window.
Teddy & Hastings – are getting on fine together, two of the most cuddly cats in the world, a pair of cat shaped teddies really.
Twinks – our long stay Mainecoon is happy and contented and enjoying waching the birds and fish from her well positioned vantage point.
More updates next week!
Enjoy your holidays! x
Good morning, what a night! Summer storms aside, it's all quiet here at the cattery. On checking the doves this morning I found one chick hatching, obviously having decided to come out of his shell to see what all the noise was about last night!
I hope all you holiday makers are having a better time of it weather wise. 
This weeks update on your loved ones has been prepared by Alfie, Elliott and Daisy who are doing their work experience with us this week and next.  So here we go:
Minx and Mischief- Minx likes to spread out in her bed and pops out every now and again when people are about, Mischief loves to say hello and tell us when its time for some attention.
Clarrisa- Likes to sit on her shelf and watch the world go by through the window, she loves a good stroke and cuddle.
Minky- Just arrived and has already settled in to watching the doves from his shelf outside.
Smartie- Always either asleep in bed or asking when she is next going to get some attention.
Albert- Always asking for cuddles and attention. Likes to poke his tongue out at you.
Charlie- His day centres around eating and sleeping.
Benji- Arrived last night and has settled in very well.
Tigger- Benji's ginger brother is enjoying his view of the doves.
Twinkle- Our long stay enjoyed a good groom yesterday and spends most of her time rolling over and asking for belly rubs.
Finn- Enjoys a lot of cuddles and always lets you know if you are late at feeding time.
Liela- Loves to sit on her shelf outside and watch the doves.
Shelby- Recently arrived and settled in very well. Likes watching everyone from her shelf inside.
Evie- Has got the best view in the place over the field but instead decides to spend most of her time sleeping.
Lewis- Very friendly and loves a good cuddle. Has enjoyed sitting outside and watching people come and go to the cattery.
Hamish and Sasha- Are their usual cuddly selves and when the sun eventually comes out may get a bit of sunbathing in.
Buddy- Buddy is one of those cats who likes to have cuddles on his own terms. Very handsome, and knows it!
Rocky, Titch, Dixy and Leo- New arrivals last night, Titch likes to have lots of conversation, while Rocky ignores her by sleeping. Leo enjoys sitting outside watching the birds in the garden and Dixy is enjoying keeping away from the nasty weather in her cosy bed inside.
That's all folks! 
A busy half term with mixed weather but ending with a stunning day today which I hope you have had a chance to enjoy. 
For those of you who have visited the cattery you may know that my second passion are my thoroughbreds that can be seen keeping the grass down in the paddocks surrounding the cattery and car park.
Yesterday I took the day off as Paddy, our 3-year old, ran in the first race at Epsom. It was Derby Day and to have a runner at such a prestigious meeting was very exciting indeed.
The Queen and Prince Philip were in attendance with the Queen giving the prizes for The Derby for the first time ever. She looked amazing.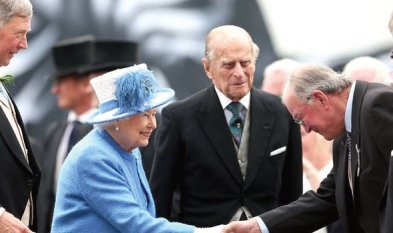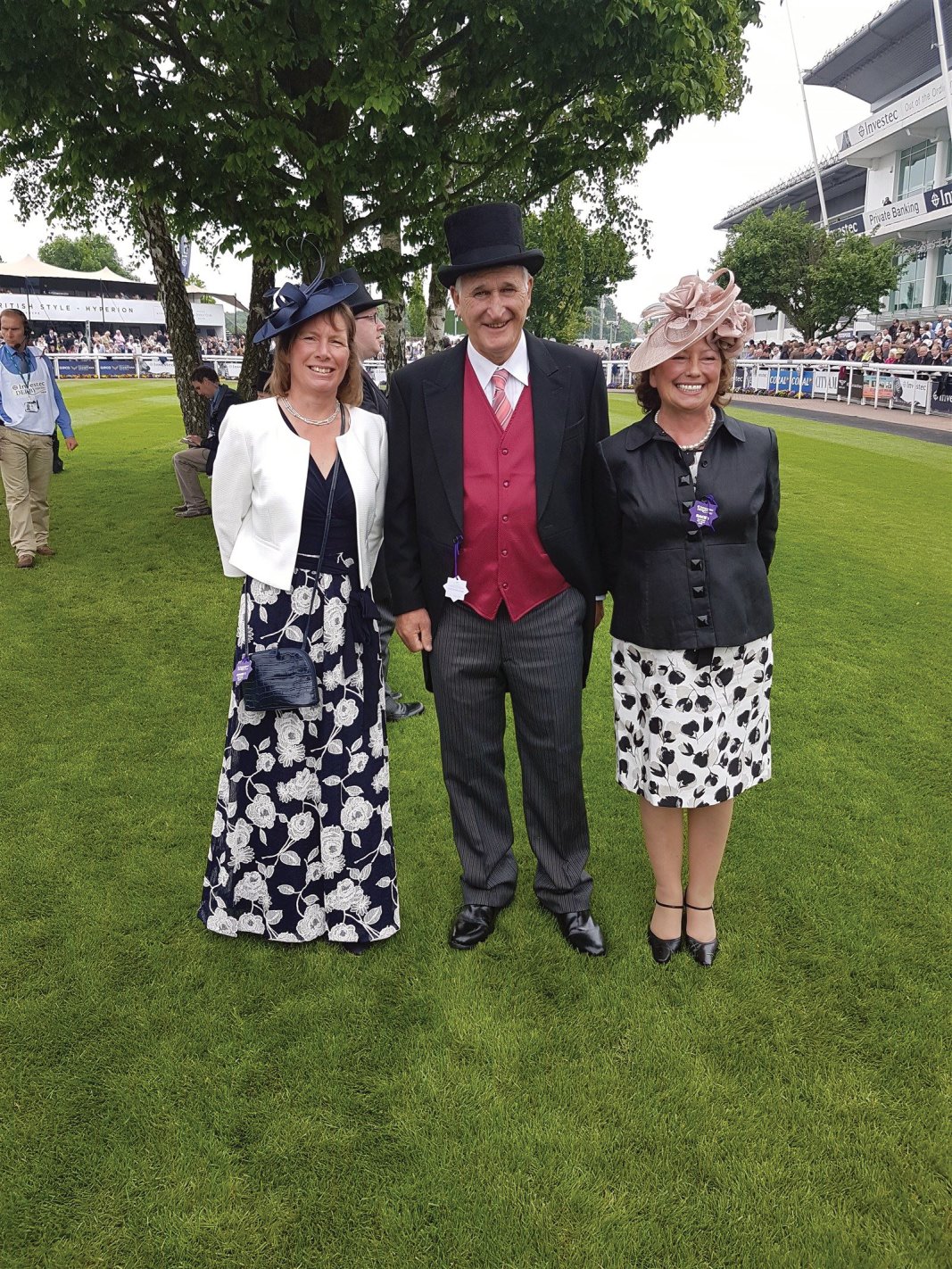 We all had to dress up for the occasion... it made a lovely change!
Kirsty, Paula and the girls stayed at home to manage things in my absence and watched proceedings on the television. Kirsty has keen eyes and spotted me walking behind Clare Balding - fame at last!
Paddy did his best but it wasn't his day and he was defeated for the first time this year after three straight wins, although we were disappointed nothing could ruin such a big day.
Back home the cats in my care are all doing well and as ever we have a mixture of new, long term and regular visitors. 
The fine weather has meant we can finally begin our maintenance programme that was disrupted by the 'oh so wet' winter months. The outside of the Family block is currently having a make over and Michaela has taken up the role of 'Painter and Decorator'. I'm not sure how much painting is getting done in between kitty cuddling but there you go...
We have a fair selection of breeds here at present, an Abyssinnian, two Birman, two British Blues, two Exotic Shorthairs, a Norwegian Forest Cat, a Persian and a Siamese alongside many DSH and DLH in a variety of colours, Torties, tabbies, greys, gingers, lilac and chocolate points, blues, blue-creams, black and whites and solid blacks. And as with the spectrum of colours and breeds we have a huge range of characters too, some shy and retiring, some 'in your face', some upside down 'tickle time please', but all individuals and a pleasure to get to know.
Just a quick update on the newbies this week - the easy going, superstar that is Alfie is next to the office and always welcoming attention, a real cuddly puss-cat. We also have the beautiful Tortoiseshell Smudge who has settled in very well. The handsome Porthos is here next to Pandora who has visited before - both are doing fine. Blackie is another newbie who loves attention and is often found upside down waiting for a tummy tickle.
Coco, Hugo, Marvin and Loulou are in together. Marvin is the most sociable so far, followed by Loulou. Coco and Hugo are coming around but playing hide and seek with me in the mornings! All are eating and doing well, the babies are just a little shy with strangers, but are getting braver by the day.
It's getting late so I'm off to do my evening checks and then off to bed myself. Good night. 
Good Evening.
We've had a busy few weeks with many special cats staying with us. We have met some new cats and kittens that we hope will become regular visitors allowing us to share in their lives, whilst at the other end of the scale we have heard of the passing of two regular guests - the forever young Dylan who went to sleep for the last time during his 21st year and the beautiful and unusual 'Red Lady' Tilly who had been suffering from health problems for a little while, both will be sadly missed here at Cottage Garden. 
We have also had to say au revoir to Edwinas' kittens Pippin and Peaches as their family have made the move to Devon - their visits will be greatly missed - but we wish them every happiness in their new home - keep the photos coming!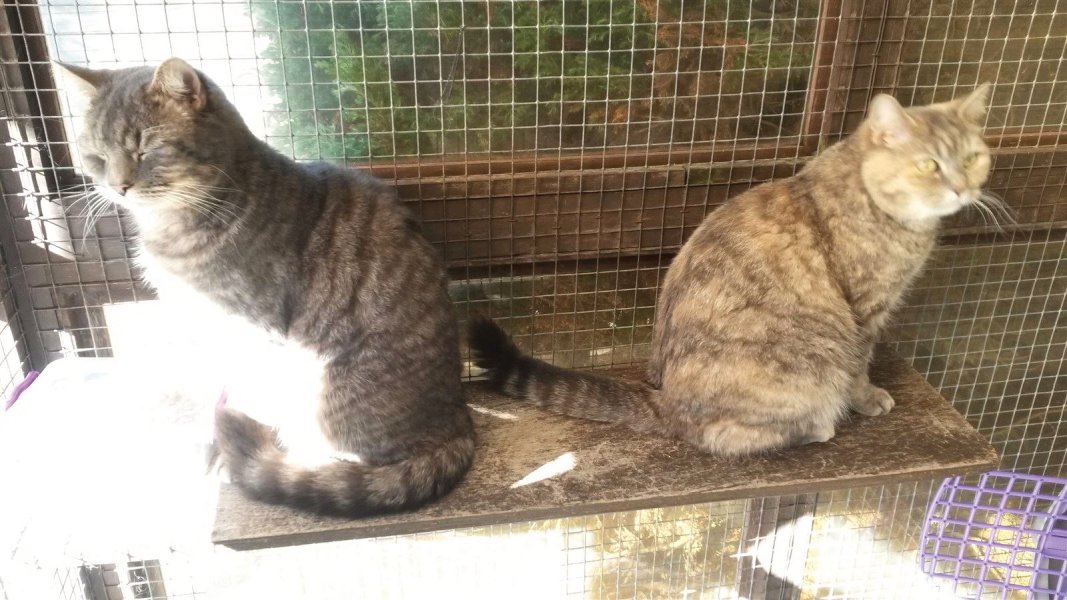 Presently we have over thirty residents all of whom seem happy and contented. We have some newbies as well as regulars, which is always nice.
Now for those with cats staying presently a quick name check.
We have three larger families staying at present, Titch, Rocky, Dixie and Leo, Alfie, Coco and Maybelle and Holly, Buddy and Willow. Titch is a kitten who is very playful, much to her new companions chargrin! CM & H settled in straight away, whilst Willow is showing the new pair Buddy and Holly the ropes.
We also have another pair of newbies in the family block, namely Milly & Mac who have come out of their shells over the weekend and are starting to investigate their holiday accomodation. 
In the main block we have Mysti & Boris who, although with limited vision, can sniff out his (and Mysti's come to that) food at 100 paces. 
Humphrey is back on good form following a quick trip to the vets soon after arrival. We're lucky that vet visits are a relatively rare thing at the cattery, but it just goes to show that any pet can be poorly at any time and it's important to have someone monitoring them to deal with any problems that arise whilst you are away.
Smudge the seal point ragdoll is here, he is diabetic, needing insulin injections every twelve hours. My staff and I are trained to look after diabetic pets, thanks to Tigger, my own diabetic dog!
Next we have a couple of houses with newbies in them, firstly the lovely Ed the Red who although a little unsure when he first arrived is now a super cool cat - watching the world go by from his outside shelf. The other side of the kitchen we have Milly & Maisy who again took 24 hours to settle but are now fine having realised we are not the vets!
I picked Calico up yesterday morning from his mum and he knows me well enough now to know that being chauffeur driven means he's going on his holidays and he's as good as gold, all settled in and happy. We offer a collection and delivery service if anyone would prefer not to travel their pets themselves.
Tulip & Willow are enjoying their extra space, having a house each rather than sharing as they are not always the best of friends. 
India has stayed for an extra week whilst her owner gets over an operation, but should be back home later this week. We wish her owner a speedy recovery.
Louis, another regular is, as expected, doing fine as are Charlie, OJ, Pepper and Jack.  Monty and Bibsy are the chatty ones this weekend - but that's par for the course with those two. 
Jazz is a sweet young cat who takes everything in his stride and is so affectionate.
I believe that just leaves a last note for Teasles' mum to say that she is eating well now and has improved since she's been with us - I think the hot weather before her stay may have been the culprit for her lack of appetite as since it has cooled down she's eating me out of house and home and is currently a very happy cat.
Thank you all for reading - I'll be back with more news and reports soon. 
Due to Storm Katie last weekend felling a tree onto the phone wires, we presently have no phone or broadband access. We apologise for any inconvenience caused. It appears this outage is not to be fixed before the middle of next week at the earliest. 
We ARE Open as usual. Please contact us by email or through the contact page of this website. We have diverted the phone lines to a mobile but service in the forest is not always good.
All the cats in our care are fit and well and my blogs shall return when the internet is back up and running.
Thank you for your patience at this time.
Alyson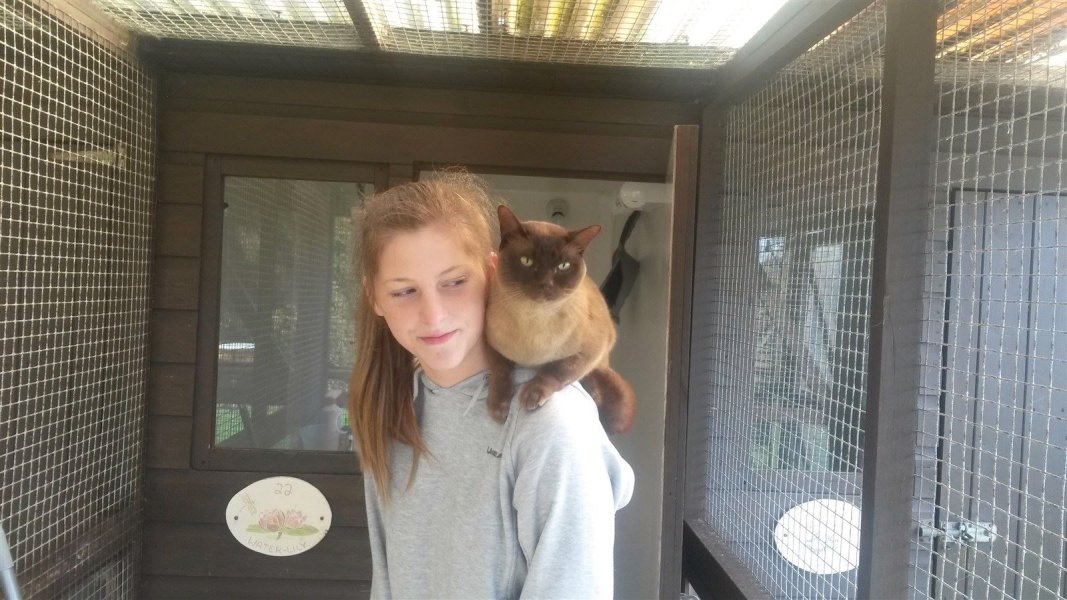 This week I have given Michaela the job of describing what our four legged guests are up to. You can see from the picture of her and Monte that she enjoys spending time with our furry friends. 
Michaela now works here on Saturdays having been our Sunday girl for some time, she also helps out during the school holidays.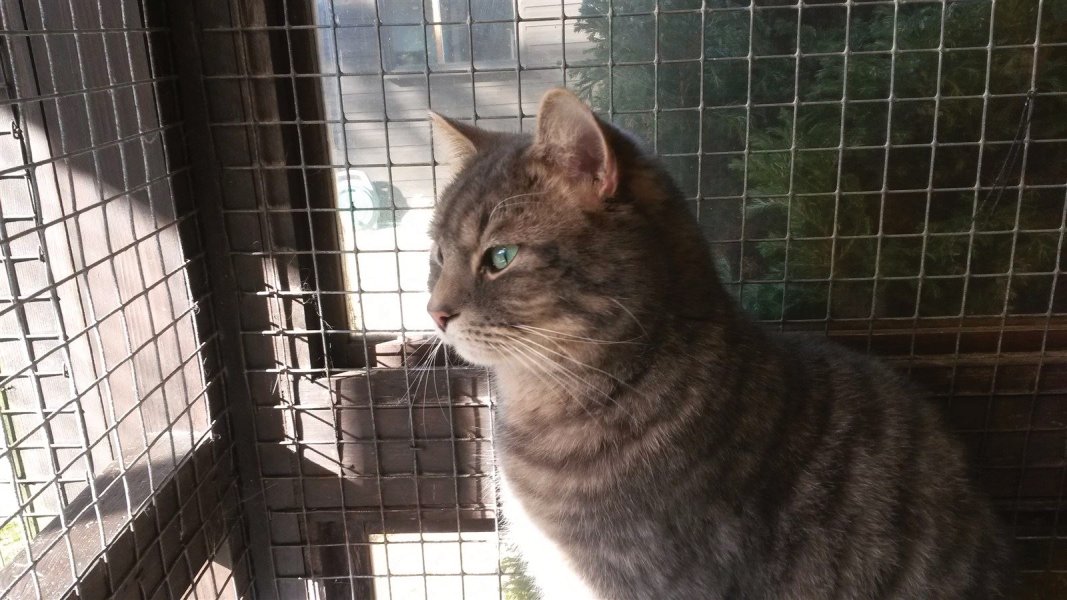 Just a quick note from myself first.
Only to say it was lovely to have Edwinas children, Pippin & Peaches, here for a holiday.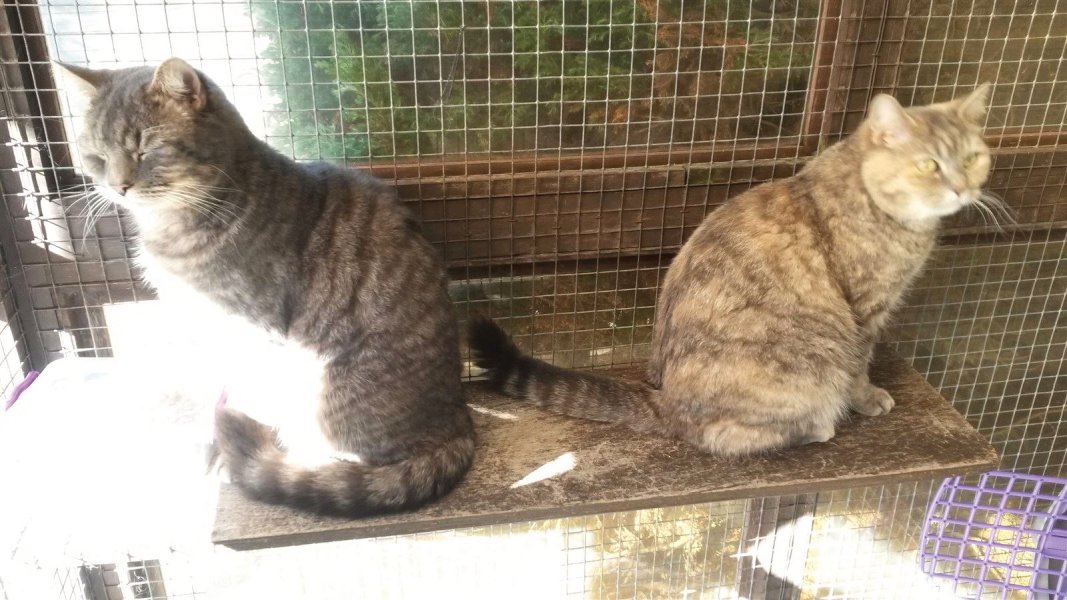 They have certainly grown into fine big cats and are just as cuddly as their mum and Uncle Dylan.
Now over to Michaela (written on Saturday, late afternoon) ...
Shadow has just arrived and is making himself at home. 
Indi the beautiful burmese kitten is training to be an acrobat!
Rufus is all settled in and cosy under his heat lamp whilst Peanut, a stunning tortoiseshell is keeping warm on her shelf inside.
Mr Fister & Scraps are both cuddled up in bed for their last Saturday night here.
Toby is sat out on his shelf watching the world go by.
Chester is keeping warm and cosy whilst looking out through his cat flap.
Muffin is gazing towards the pond.  

Dylan, Dillon & Dylan (and of course Nelson too) are all outside watching the sun going down.
Milly is just packing up her things whilst waiting for her lift home.
Stunning but lively Blackjack is peering through his window.
Chillie is all curled up under her heat lamp.
Tom is hogging the shelf like he owns it, leaving Daisy to sit outside to admire the doves.
Curious little Monte has finally settled down after a fun packed day of climbing on the staff.
Finally Jack is enjoying a quick cuddle having just had his dinner.
Ahh - must be off we have four new arrivals who need a hand...
Until next time! x
What a half-term! Everywhere has been so busy in the forest and although the weather has not been great, at least it has been mild. The cattery has been buzzing and we thank Bethany for spending half of her holiday here helping out whilst Michaela has been away on a school trip. Our young assistants work very hard making sure all the cats are cuddled and cared for whilst they are with us!
This weeks cats are all well and healthy and a happy bunch indeed. 
We have several pairs in, namely Boris & Mysti, George & Connor, Lady & Chloe, Scraps & Mr Fister, Bert & Willow and Gerry & Poppy. They are all regulars and have their favourite spots, routines and food for which we cater.
The singles line up looks like this - cuddly Jack, pink lipped Pussyfoot, Sir Oliver always on my shelf, Sam the big purring Burmese, Chillie (chicken's my favourite), Calico the Red, Queenie - I can open and close my cat carrier behind me, Mozart the cuddly Egyptian Mau, Muffin (strokes but no cuddles thanks!), Minky the climber, Mister, another cuddler, Molly the slimmer, Jaygar the big eating Mainecoon, Upside down, tummy tickle please, Spike, Muffin the diabetic fish mad moggy and last but not least Bella the beautiful!
Enjoy your week and don't forget to check out our cat flavoured laughs on our facebook page. x
Happy Valentines Day.
I was lucky enough to receive some beautiful roses today and be bought a surprise dinner (if only a takeaway!).
Being half term the cattery is pretty busy and we have had to open two of the garden blocks to accommodate our guests. We as ever have a selection of newbies, regulars and old-timers and so my name-check begins...
Overlooking the Storm Imogen damaged dovecot are Pussyfoot, a change of scenery for our long stay puss, Teasle the tabby and a new boy of Burmese origin, Sam, who has settled in very well and enjoys watching us through his window and having a cudhenever we're in his house.
Chillie the tortie is back with us for a couple of weeks, as is Mori the Siamese. Both behaving very well. 
We have a selection of piebald and skewbald cats in at present, we have the black and white Lily, Jessie, Muffin and Tilly and the tabby and white Alfie and Darcey. They are all pretty easy going folk and seem at ease here in their rural surroundings. We also have the tabby Clara and Tortie Tansy and three further regulars in the shape of Bella, Summer and Spike.
Moriarty the Persian is next to the kitchen with Molly the Tortie, another newbie, on his left.  Both making use of their heat lamps tonight I notice as the temperature is dropping!
Connor and Gorgeous George are by the orchard alongside Blind Boris & his valentine, Mysti the Siamese. The family block is housing Bobby & Willow, another Siamese, Jack, Gerry and Poppy and tomorrow we welcome another five guests so it looks like alot of you have had enough of the stormy weather and are heading off for a winter break. Wise move having just seen this weeks weather forecast! Until next time...
I guess the snow has finally arrived in the ski resorts because the phone has been ringing off the hook this week with last minute bookings! 
We said goodbye to Kirsty, our first work experience placement of this year, on Friday and we wish her all the best in her future career - a very capable young lady in her second year at Sparsholt College. Tomorrow we welcome Sophie, our second placement also from Sparsholt, but a first year student this time. 
Now we may be a cattery, but at times we seem to have a geriatric ward! 
I must say at this point that I am always very flattered that the owners of these treasured cats entrust their care to me whilst they are away, a difficult decision I know for each of them to leave their oldies behind. 
We currently have the sprightly Spice, a beautiful Tortie old lady who although a little on the thin side eats for Britain and is always there to greet me for breakfast, lunch, tea and dinner! Spice is in her 22nd year, her sister Cuddles sadly passed away last year but Spice doesn't seem to mind not having to share her heat lamp!
Our next resident is Dylan, who is now 20 years young and again a sprightly ginger chap if partly due to a cocktail of pills and potions! Again he loves his food and eagerly awaits all meals although I'm not completely sure he always remembers eating them!
Eighteen and a half is our next guest - a youngster in comparison - Tigger, also ginger, is a regular guest who was a very poorly puss for a couple of years but his loving owners took him to Spain for some sunshine for a few months and miraculously his breathing problems cleared up and here he is at a ripe old edge still enjoying life - amazing what a bit of sun can do...
Then we have Rosie who is one of those ladies who definitely does not look her age. She's 17 now, but doesn't look a day over 12!
The rest of my guests range from a 3 year old Mainecoon called Teasle who is enjoying her fist stay, she has settled in well and after spending the first few hours hiding in her bed under her heat lamp, is now on her shelf contentedly watching the world go by, to a 13 year old Ragdoll called Lucy who again is a regular visitor and knows the ropes.
In between we have George & Connor, Rusty who has now moved in to live with Milo & Lulu, and Pumpkin & Nelson. Also Toby, Pussyfoot, Pebbles, Minky and Hazel. Each have been enjoying the peace and tranquility of a Sunday and either lazing on their shelves or under their heat lamps. The doves have been keeping many entertained, whilst a rare visitor to the garden, a kingfisher, gave some colour to an otherwise rather damp and dreary day.
Well to those of you on the piste - take care and to those in hotter climbs - enjoy - And please be assured your treasured loved ones are being well cared for here at Cottage Garden. x
/