Shopping Cart
Your Cart is Empty
There was an error with PayPal
Click here to try again
Thank you for your business!
You should be receiving an order confirmation from Paypal shortly.
Exit Shopping Cart
NFDC 5 Star Licensed Boarding Cattery
I hope you all had a super Christmas and Boxing Day and are enjoying the additional two days of holiday. The weather although dull at times has been so mild, allowing our guests to use their outside runs more than usual for this time of year. 
We have some real characters in at the moment. Our guests are made up of many regulars with a sprinkling of newbies this holiday-time.
With the exception of half a dozen, all the cats in presently are good old fashioned Domestic Short Hairs, a mixture of Gingers, Blacks, Tabbies and Torties in all shapes and sizes and varying in ages from kittens up to the late teens!
I'll start with the Newbies as I know leaving your cats for the first time can be difficult...
Young eight month old Monti is a bundle of fun and has adjusted to his new surroundings with ease. He's eating well and enjoying watching the birds feed in the garden.
Sylvie, the Grey Tabby, although sometimes a little fussy with her choice of food is doing really well and again is enjoying her view over the dove cotes. 
Also in for the first time are the brothers Tom & Toby. Toby who looks very distinguished with his grey beard is the bolder of the two and is always about for a meet and greet! Tom is fine but a little more reserved and prefers to watch the world go by from the safety of his open carrier rather than the higher shelf his brother has commandeered, but as he only has three legs that is hardly surprising!
Flo (a boy!) is completely white bar a tiny patch of brown hairs on his head. Easy to spot you may think, but in fact easier to hear! Very chatty little lad who loves a cuddle and is a real character.
Diesel is a four year old black puss, who has a lovely laid back temperament and is a joy to look after. He is residing in the family block overlooking the orchard during this stay. 
Tabs & Jasper are brother and sister I believe and although a little shy to start with, have now settled well. Jasper is not pleased that he has to stick with his medicated biscuits when he sees all the different foods passing his house at feeding time!
Sheepdog (cat) has now got used to his neighbours and is no longer on guard duty! He loves his food and is a big softy at heart...
A quick mention for Betty who this visit is on her own after the sad passing of her usual companion, Little P, she seems happy enough though and settled well.
The rest of my residents are mainly regulars who I shall quickly name check, but all are well and have enjoyed their festivities:
Casper the White Persian is with Malbec (the red of course). Sox is taking her medication without incident, Tabby Milly is her usual happy self, with Camo keeping watch over the kitchen - such a laid back lad.
India spends her time spying through her window on who is having what to eat and lets me know which menu she would prefer! Millie the DLH has decided she prefers me to cook her some dinner each night, fish preferably, whilst Jasmine is happy with her meaty Sheba. 
Our Golden Oldie Ollie is keeping me on my toes with what he will and will not eat on a meal by meal basis - the oldies know all the tricks!
Sophie is still suffering from her foot fetish and my new Welly Boots came in for a good talking too on Christmas Morning! She's so silly...
Bella is eating her special food okay although again she's not too pleased watching the waitresses pass her house by with all the goodies.
Kinks & Scamps are giving me the runaround as per usual - but nothing I'm not used to, as I've said before the oldies know all the tricks...
That just leaves Rosie, Wilson and Sooty in the main block who are all very well behaved and a joy to have to stay.
In the gardens we have Benji & Tigger. Benji suffers form cataracts but is coping very well and has had no trouble finding his food. The wonderful British Short Hair Silver Tabbies, Tok-Tok & Sabie are enjoying their climbing frame and eating well.
Misty & Boris are back with us for another short stay, along with the ageing Bubble & Squeak and the youngsters Poppy & Daisy - all are fine.
That just leaves the family block who this week houses Merry (Very apt), Tilly, Penny, Sooty (yes, another one), Alfie Moon, Nelson & Pumpkin, Fudge & Megan, Teasle and Atticus - all of whom are being as good as gold, getting on well and seemingly enjoying their Christmas Hols as I hope are you.
Seasons Greetings, Alyx
Christmas is coming.... faster than I'd like if I'm honest! Such a busy time of year...
This weekend seems to be the calm before the storm so to speak. Only a few residents to fuss over today:
Smartie is welcoming visitors by the main entrance, whilst her neighbour Carlo the Persian has recovered from some travel sickness on arrival and is now doing fine. Isla finally gets to move into her new home this week whilst Spike the Siamese is here for a short weekend break this time. 
We welcomed a new guest yesterday in the shape of Simba the Ragdoll who although a little unsure at first is enjoying cuddles and attention and slowly coming out of his shell.
Little grey and white Ashley was enjoying his heat lamp today. Ollie & Millie are enjoying their view of the gardens and are next to Tilly the tabby who has settled in so well. 
Peter & Pearl are still with us, but I'm hopeful of finding them a loving home soon, fingers crossed.
Ginger Bailey is being his usual laid back self, whilst Monty the Burmese is full on as per usual! That just leaves the lovely grey tabby Sylvie who is loving watching the birds and Wilson the ginger tabby who is always out on his shelf seeing what's going on. All in all a very happy bunch of puss-cats and a pleasure to look after.
Until next time why not check out our facebook page - Cottage Garden Cats - for some Christmas Cat Funnies!
Well winter is well and truly here, gales, rain and a cold chill in the air and so it is no surprise that many of my clients have decided to take a break or two to sunnier climes.
November is usually a quiet month when my girls catch up on their time off after a busy summer but not this November - busy, busy, busy it seems...
This weekend we have had 21 guests staying, to put this in perspective, this time last year we had 9!
So here is the update on our current guests...
Black & white Dillon is by the entrance this week, next to Tabby & white Shelby who is here alone this visit. Isla is still with us until next week and diabetic Smudge is next to the kitchen and very settled now into his routine. Malouse another Tabby & white, female this time, is also next to the kitchen with the time-wasting kittens, Banjo & Silver - absolute sweeties - next to her.
The kittens were a little shy when they arrived but are coming out of their shells now that they have realised that they're not at the vets!
Bibsy (grey and white) is quite a loud puss - mainly expressing his anguish at being on a strict diet...
Dixy the tripod is sharing with Tabby and white Leo and taking her meds well. Next door, Black & white Rocky is with Black Stewie, who after a little stand offishness to start with are now getting on fine.
Lucy the Ragdoll is utilising her heatlamp to maximum effect, as is Tilly the Ginger girlie. Snowey the grey tabby (yes that surprised me too!) is next to Jackjack another Ginger DSH and Mori is quite happy now that his special food has arrived by courier no less..
Edwina & Dylan are in the kitchen to take advantage of the radiator in there. We said goodbye to Tigger and Tattinger yesterday and will say hello to another Tilly tomorrow morning.
Now a plea for help -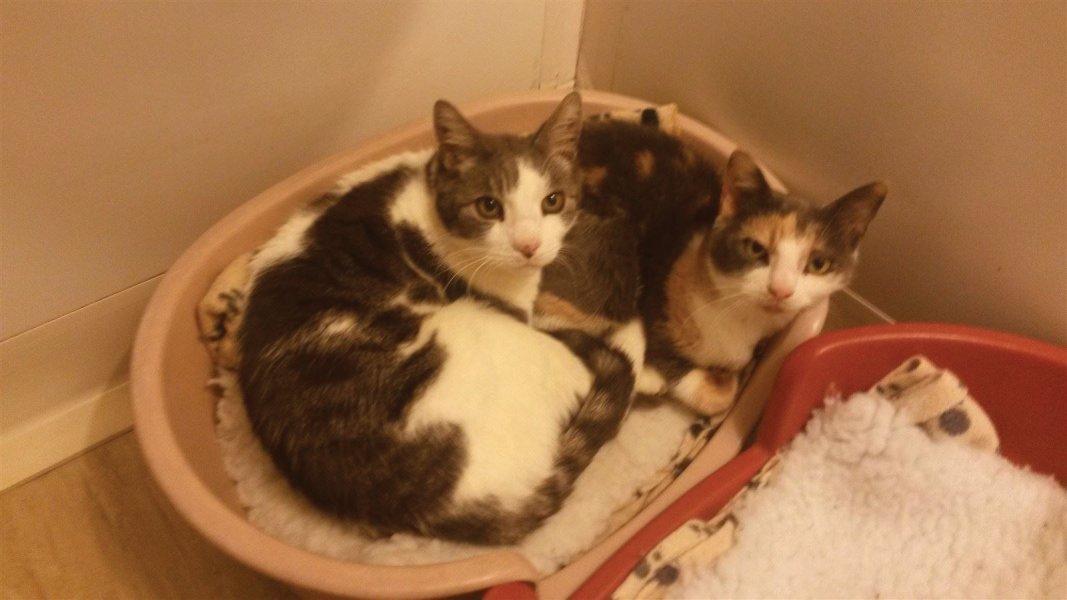 Peter & Pearl, brother and sister, have found themselves looking for a new home as their mum has fallen ill and had to move from her home. They are here with me at present and so if you would like to meet them, or you know someone that could give them a new home PLEASE let me know. They have been coming to me since they were kittens, they are extremely easy going, affectionate and easy to care for. They have a full service history and MOT and come highly recommended. 
Please ask anyone you can think of, but they must go together. THANK YOU. x
Things learnt this month - if you do not press the save button your two and a a half hour - half term blog will disappear into hyperspace and never be seen again... so many apologies for the cyber-silence but I believed I had posted what I believed to be one of my best and most detailed posts only to find out in fact it had been deleted!!! Strangely I temporarily lost the will to blog when I realised what had happened but I have now bounced back so here we go...
This weekend I hope has seen the last of the firework season, it thankfully is never too bad here but last night the wind direction brought some noise from the Hordle direction, thankfully not for too long though. I checked the cats of course and they actually seemed quite unphased by it all.
We have two newbies in at present, Jaygar, a handsome Mainecoon and Tilly who has moved to the area from Hertfordshire, a pretty little DSH who although a little nervous has enjoyed a cuddle and a groom already this morning.
We have nineteen cats in this weekend, so it is quiet here, but for this time of year that is usual.
Liela and Finn are back in for another holiday, whilst Islas' stay has been doubled in length due to a house move complication. Cat leaves us after three weeks tomorrow, he and Isla have been neighbours over the last week or so and have got on really well.
Fender the grey tabby is such a sweetheart, he's next to TC, a tiny tabby who is nearly 20 years old but is the chattiest little thing about. Teasle the tabby is next door, doing well. Ali C is off home tomorrow following his two and a half week stay, and I must say he's looking very dapper after a good groom. 
Molly, who herself is nearly nineteen, was out and about this morning looking for her breakfast, whilst Monte the Burmese was out and about and chatting to anyone who would listen, waiting for a person to jump on and climb all over! 
Another eighteen year old Tigger the Ginger is also here, next to Minerva, a pretty little black cat who just loves watching the world go by who is next to the youthful Tilly (15) who is enjoying her new medicated diet, which is lucky as that's now all she's allowed...
Poppy & Gerry are showing the newbies the ropes along with Tattinger who's in for just under a month - a beautiful Russian Blue with a temperament to match. Penny is enjoying her privileged accommodation at the end of the block with the best views of the grounds. That concludes todays guestlist. 
Please do visit our facebook page to see some cat related funnies...

Another lovely week has gone by with a variety of guests both new and old. Currently we have thirty guests staying, all of whom seem contented and settled in. Some are with us for a few days whilst others for a number of weeks - so those kind souls who regularly read my updates will recognise some of the names I'm sure.
In the family block we have Jet & Tilly who after a few nights at home have come back for a longer stay with no fuss this time. (Tilly can get a little territorial around other cats and likes to let Jet know who's in charge even though these days the 'baby' is somewhat bigger than her.)
Also in this block we have Bert & Willow who are enjoying their slightly larger house during this visit. The lovely Alfie, Coco & Maybelle conclude the residents of Family Block this weekend, and leave us at the end of the week after a four week stay. Each so friendly but so different in character and indeed looks.
Also outside (not literally obviously) we have another month long resident, Isla, who is nearly halfway through her stay. She is doing well and always up for a fuss - a real sweetheart.
The main block houses Gizmo another real character who goes home tomorrow after a couple of weeks in our care. Fudge & Toffee are next door, eating well this visit and keeping mobile. The beautiful Sasha & handsome Hamish are here for the week which has made Karen smile as they are her favourites (I have told her she's not allowed favourites but what can I do...)
Dear Muku is next to the kitchen, she's come to stay this time under the cloud of a bad prognosis from the vets, however she is comfortable under her heatlamp and is being spoilt rotten. She's not too keen on her 'special' food so I've been tempting her with a few healthy treats and that's really perked her up and she seems as comfortable as can be expected so don't worry Mum.
We have a newbie on the other side of the kitchen, namely Jennywren a six year old black Domestic Long Hair. A lovely girl who has taken her change of accommodation in her stride. Marco Biscuit is her neighbor and again is about half way through a five week stay. He's well into the routine now and has me well trained in his likes and dislikes! Did I ever mention I'm not too sure who's in charge here?
Rosie, another very friendly black Domestic Long Hair, is on his other side so it's a Marco Biscuit sandwich.
Old Timer Evie is in full swing, along with Snowy, another five week guest, who as her name suggests is a white Long Hair. Lots of grooming this week! 
Old man Charlie is eating his medicated food well this weekend for a change and is generally being very good. The handsome black Shadow is also well settled in and always a pleasure to look after. 
Next was my first mistake of the week. I don't know what I was thinking but I housed Monty the Burmese next to Spike the Siamese - all I will say is that we've had earplugs in all weekend as once the '-eses' get chatting...
Ginger Ollie has been uncomplaining about the chatter and has been purrfect as per usual.
Next we have a newbie along with a regular. Malbec has a new friend in the shape of a white Persian who has complete heterochromia (two different coloured eyes to you and me) called Casper. They seem very relaxed together and both are eating and doing very well. 
Tiggy is her usual self, cuddly with me and anyone else with food and frightening to anyone who just wants to clean her out and arrives without a treat!
Malouse was a little shy of her neighbours when she arrived but all is happy and calm now they've all settled in. Herbie is his fussy self on the food front but is enjoying his view of the doves and is always looking through his window.

Bambou is at the end of the main block, enjoying the best views of all and is another cuddly chap who loves attention.
Well, without counting back I hope I have mentioned everyone this week and will blog again next weekend, in the mean time have a good week. Aly
Once again I am lucky enough to be looking after a large variety of cats this weekend. From a family of three, namely Maybelle, Coco and Alfie each of whom is a different breed to the Maine Coon siblings Phoebe & Jackson, from Jet & Tilly (Black Burmese & Silver Burmilla) to Busta & Missy the Bengals to Indy the Burmilla and Frankie the Tiffanie who just wants his tummy tickled all day.
We of course have a couple of Siamese in as well as our more usual Domestic Shorthairs and Longhairs.
Each cat regardless of breed characteristics have their own individual characters which I always enjoy getting to know. We have Bobby & Willow by the entrance to the cattery who are two large laid back characters, whilst regulars Maggie and Sox (who both know the ropes well here) keep an eye on the kitchen.
We have some longer stay guests at this time of year. Marco Biscuit is one of these and has settled in well, along with Spike who has been in for a while now and Gina who leaves this week after a happily uneventful six weeks. Snowy has joined us for the next month and although this is his first visit he appears to be settling in well.
Of the shorter stay guests, Gingy & Tiggy, Tilly and Lucy are all off home on Tuesday after a few days holiday. Molly is still complaining about being next to Sophie but as they live together at home I can't really see the problem! Charlie is keeping an eye on the doves, whilst Monty has settled very well in the main block this stay, seemingly having realised that neighbours in here will not invade his territory. Lucy prefers to watch the view through her window, whilst Tiggy is making sure the heatlamp is working..
Meanwhile Simon is still trying to work out how to open his suitcase as he realises his treats are stored within it... 
Well it's time for lights out so I must sign off, enjoy your week. 
FINALLY a chance to update my guests families on how they're doing. Well let's start from the Dove End of the cattery.
We have two new brothers first, Kenzo and Marley who settled right in and are enjoying their vantage point and doing everything two happy cats should. 
We have a few oldies in at this time of year, including Tigger who spends most of his time asleep under his heatlamp but has been enjoying the beautiful sunshine we've had this week. Charlie, another ginger oldie has had a trip to the vets, just to be on the safe side, as he looked a little under the weather yesterday. 
Poppy & Gerry are fine as is Gina our diabetic old lady. Little Timmy is off home later today as is big black Shadow. A now regular Chilli is here next to Lillie the exotic shorthair. Toffee & Fudge are here for a longish stay and are both straight into our routine, with Lady next to them and Dolce who is now fine after suffering a little upset tummy during her stay. 
Flick is also home today, a super little tabby girly who has been a pleasure to look after, always so welcoming and chatty. Bandit & Coco are another new pairing who have settled in so well and are both super cats and seem to be enjoying their stay. 
Minky is up to his usual tricks next to Daisy Little and Rosie who are both fine, Onslow II is on his shelf watching the world go by next to Penny, whilst the lovely Alfie & Lily keep Pebbles entertained from the top of her carrier.
Mori has been a little testing this visit along side Teasle who's eating well and the wonderful Mr Fister & Scraps.
Pussyfoot is now well settled into our routine for her long stay as is Mysti the young Siamese for her stay.
Chester is fine this morning, whilst Liela & Finn keep an eye out from the Family block. along with Bluebell and Bob, Albert with his toothless grin, Bilbo, Bubble & Squeak, Jimmy, Jack, Luna & Daisy. 
We have more guests arriving shortly, so off I must toddle...
And today we have a breather - 
We have had an influx of new cats and kittens over the past couple of weeks that have certainly kept me on my toes. Getting to know them all has been an enjoyable challenge. Most are now back home after their holidays but more newbies arrive daily. Today we welcomed Pumpkin & Scratch and Luna, Jack, Daisy and after a struggle their friend Jimmy Chui (he was playing hard to get). Yesterday Sasha arrived and on Tuesday Garfield. Monday brought us Oscar and Curtis & Wolfie. 
We also have a host of regulars along with a few longer stay residents. The beautiful Mable & Ruby are giving Puzzle something to think about, whilst Sophie spends each morning playing tap on my shoes (foot-fetish!) Joe & Toby are back from Switzerland and are both happy and playful. Gizmo is next to Claudia, both of the black DSH variety, whilst Tabby Poppy is next to the mostly black, aptly named Sooty. Cosmo and Lulu are making sure our grooming skills don't go to waste, whilst the handsome Barney just loves a cuddle. Gem however prefers food to love!
Pumpkin & Nelson, Fang & Poppy and Mitzi & Smudge are all in the family block along with Soots & Flo, for a change of scene.  
We have fourteen guests arriving over the next 48 hours which will once again swell our numbers but never fear, our team of dedicated cat lovers will be on hand to make sure each and every one of them is cared for and looked after on an individual basis. So on that note I must go and do my evening rounds - enjoy your weekend.
Another beautiful sunny day, the cats all out on their shelves soaking up the rays, the birds in their cote shading from the sun, the fish basking in the pond and the horses grazing peacefully in the paddocks beyond. It's at times like this I appreciate how lucky I am to have such a super job.
Fifi the black long hair is watching other guests arrive from her window, Hazel is sunbathing whilst waiting for her lift home, Baboushka is enjoying the sunshine reclining on her outside shelf and Mitzi & Smudge are having an afternoon snooze.
Duffy is a little shy and watching the world from her carrier whilst her friends Muffin & Razzle are next to her, Razzle again a little shy whilst the ever hungry Muffin is calling for her dinner already!
Bella and Lola the Tortie & White girlies are on their shelf watching the kittens Orville & Wilma who are playing constantly with anything to hand(paw)!
Molly & Minnie are adjusting well to their new rural surroundings. Next door we have Roxy the shy sister with her outgoing sibling Coco happy to chat to anyone. Minky is keeping an eye on the young ladies whilst old Molly tries not to notice on his other side. Luna is loving her outlook and is getting noticed by many admirers...
The second of our two Alfie Moons who stayed this week is watching the doves from his run, Fudge & Toffee another Tortie & White duo are also quite enamored as are Bert & Willow. Gem is next door watching Lulubell who after such a shy start is now Lady of the Manor, posing on her shelf and luxuriating in the suns rays. Finally with the best view of the lot is Charlie - taking it all in his stride.
In the garden we have Poppy by the pond, Peter, Pearl, Milly & Mori are in the orchard. Merry is enjoying extended living accommodation as are Darcy and Camo. Also in the Family block, enjoying the shade of the fruit trees are Evie, the fast growing Tango with Envelope his slightly reticent companion. Bailey & Poppy the Siamese luckily haven't caught Mori's eye yet or there would be a lot more Chatter. Nelson & Pumpkin are doing exactly what I would on holiday - having  nice food and drink whilst lounging around, not doing much. And taking a leaf out of their book are our latest newbies, Bengal kittens, Luther & Martha. They look as if they've been coming here forever, they are so laid back. We're just waiting for Max & Ruby to arrive before dinner is served and here they are - another pair of beautiful kittens to make our cattery complete. I must off to meet & greet - enjoy your weekend.
/