Shopping Cart
Your Cart is Empty
There was an error with PayPal
Click here to try again
Thank you for your business!
You should be receiving an order confirmation from Paypal shortly.
Exit Shopping Cart
NFDC 5 Star Licensed Boarding Cattery
| | |
| --- | --- |
| Posted on November 29, 2015 at 5:11 PM | |
Well winter is well and truly here, gales, rain and a cold chill in the air and so it is no surprise that many of my clients have decided to take a break or two to sunnier climes.
November is usually a quiet month when my girls catch up on their time off after a busy summer but not this November - busy, busy, busy it seems...
This weekend we have had 21 guests staying, to put this in perspective, this time last year we had 9!
So here is the update on our current guests...
Black & white Dillon is by the entrance this week, next to Tabby & white Shelby who is here alone this visit. Isla is still with us until next week and diabetic Smudge is next to the kitchen and very settled now into his routine. Malouse another Tabby & white, female this time, is also next to the kitchen with the time-wasting kittens, Banjo & Silver - absolute sweeties - next to her.
The kittens were a little shy when they arrived but are coming out of their shells now that they have realised that they're not at the vets!
Bibsy (grey and white) is quite a loud puss - mainly expressing his anguish at being on a strict diet...
Dixy the tripod is sharing with Tabby and white Leo and taking her meds well. Next door, Black & white Rocky is with Black Stewie, who after a little stand offishness to start with are now getting on fine.
Lucy the Ragdoll is utilising her heatlamp to maximum effect, as is Tilly the Ginger girlie. Snowey the grey tabby (yes that surprised me too!) is next to Jackjack another Ginger DSH and Mori is quite happy now that his special food has arrived by courier no less..
Edwina & Dylan are in the kitchen to take advantage of the radiator in there. We said goodbye to Tigger and Tattinger yesterday and will say hello to another Tilly tomorrow morning.
Now a plea for help -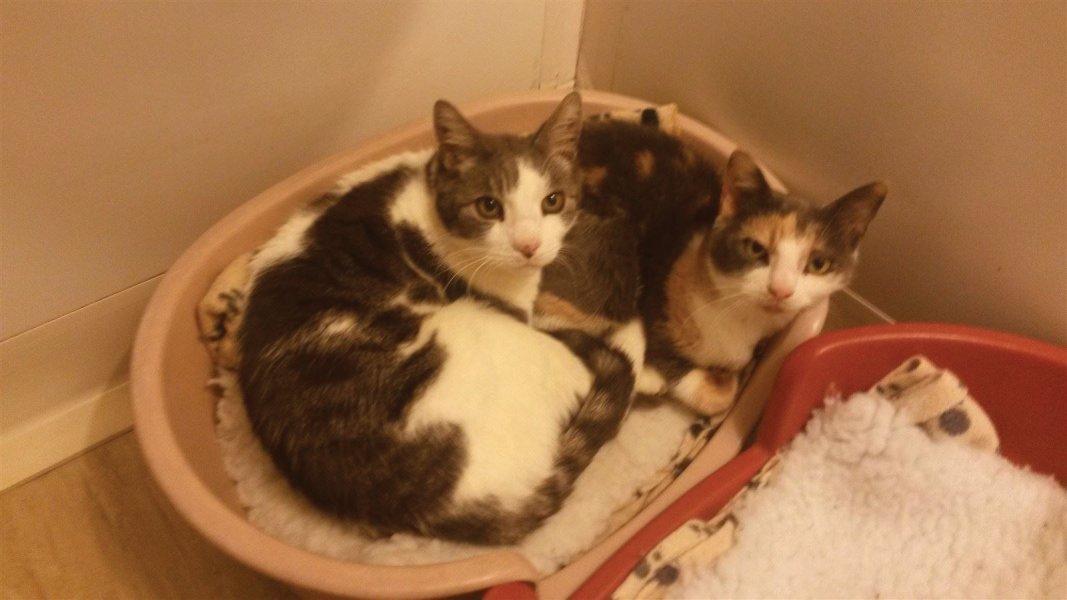 Peter & Pearl, brother and sister, have found themselves looking for a new home as their mum has fallen ill and had to move from her home. They are here with me at present and so if you would like to meet them, or you know someone that could give them a new home PLEASE let me know. They have been coming to me since they were kittens, they are extremely easy going, affectionate and easy to care for. They have a full service history and MOT and come highly recommended. 
Please ask anyone you can think of, but they must go together. THANK YOU. x
Categories: cattery
/