Shopping Cart
Your Cart is Empty
There was an error with PayPal
Click here to try again
Thank you for your business!
You should be receiving an order confirmation from Paypal shortly.
Exit Shopping Cart
NFDC 5 Star Licensed Boarding Cattery
| | |
| --- | --- |
| Posted on May 22, 2016 at 5:06 PM | |
Good Evening.
We've had a busy few weeks with many special cats staying with us. We have met some new cats and kittens that we hope will become regular visitors allowing us to share in their lives, whilst at the other end of the scale we have heard of the passing of two regular guests - the forever young Dylan who went to sleep for the last time during his 21st year and the beautiful and unusual 'Red Lady' Tilly who had been suffering from health problems for a little while, both will be sadly missed here at Cottage Garden. 
We have also had to say au revoir to Edwinas' kittens Pippin and Peaches as their family have made the move to Devon - their visits will be greatly missed - but we wish them every happiness in their new home - keep the photos coming!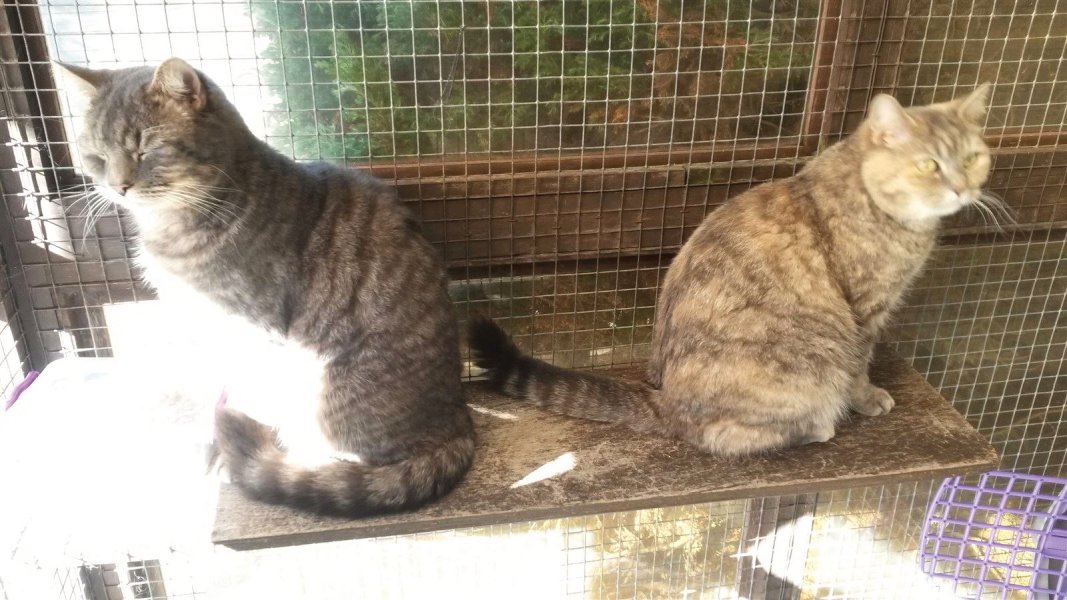 Presently we have over thirty residents all of whom seem happy and contented. We have some newbies as well as regulars, which is always nice.
Now for those with cats staying presently a quick name check.
We have three larger families staying at present, Titch, Rocky, Dixie and Leo, Alfie, Coco and Maybelle and Holly, Buddy and Willow. Titch is a kitten who is very playful, much to her new companions chargrin! CM & H settled in straight away, whilst Willow is showing the new pair Buddy and Holly the ropes.
We also have another pair of newbies in the family block, namely Milly & Mac who have come out of their shells over the weekend and are starting to investigate their holiday accomodation. 
In the main block we have Mysti & Boris who, although with limited vision, can sniff out his (and Mysti's come to that) food at 100 paces. 
Humphrey is back on good form following a quick trip to the vets soon after arrival. We're lucky that vet visits are a relatively rare thing at the cattery, but it just goes to show that any pet can be poorly at any time and it's important to have someone monitoring them to deal with any problems that arise whilst you are away.
Smudge the seal point ragdoll is here, he is diabetic, needing insulin injections every twelve hours. My staff and I are trained to look after diabetic pets, thanks to Tigger, my own diabetic dog!
Next we have a couple of houses with newbies in them, firstly the lovely Ed the Red who although a little unsure when he first arrived is now a super cool cat - watching the world go by from his outside shelf. The other side of the kitchen we have Milly & Maisy who again took 24 hours to settle but are now fine having realised we are not the vets!
I picked Calico up yesterday morning from his mum and he knows me well enough now to know that being chauffeur driven means he's going on his holidays and he's as good as gold, all settled in and happy. We offer a collection and delivery service if anyone would prefer not to travel their pets themselves.
Tulip & Willow are enjoying their extra space, having a house each rather than sharing as they are not always the best of friends. 
India has stayed for an extra week whilst her owner gets over an operation, but should be back home later this week. We wish her owner a speedy recovery.
Louis, another regular is, as expected, doing fine as are Charlie, OJ, Pepper and Jack.  Monty and Bibsy are the chatty ones this weekend - but that's par for the course with those two. 
Jazz is a sweet young cat who takes everything in his stride and is so affectionate.
I believe that just leaves a last note for Teasles' mum to say that she is eating well now and has improved since she's been with us - I think the hot weather before her stay may have been the culprit for her lack of appetite as since it has cooled down she's eating me out of house and home and is currently a very happy cat.
Thank you all for reading - I'll be back with more news and reports soon. 
/